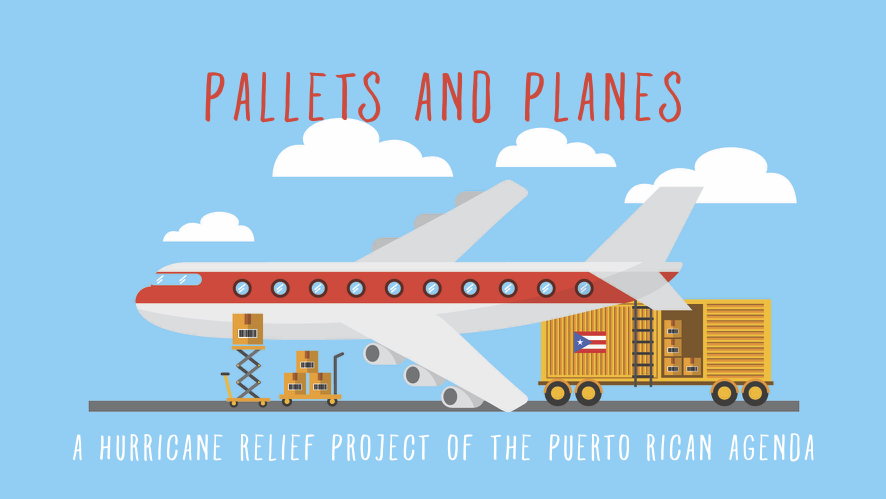 Click on the image above to visit our crowdfunding campaign.
Segundo Ruiz Belvis Cultural Center partners with The Puerto Rican Agenda's Hurricane Relief Effort: "Pallets and Planes"
Update on 10/4/17: We are pleased to report that the anti-seizure medication sent to Hospital Pediátrico Universitario de Puerto Rico was received! This joint effort between the Pallets and Planes campaign was made possible by Dr. Rebecca García Sosa (Lurie Children's Hospital), OWP Pharma, The ROW Foundation, Paul Regan (CEO), and the Epilepsy Foundation of Greater Chicago, Kurt Florian (CEO). The donation was hand-deliverd by Attorney Pedro Soler and received by Janice Rodríguez, Chief Resident, Fundación Hospital Pediátrico.
Update on 10/3/17: The Puerto Rican Agenda is still accepting donations after successfully raising $50,000 in five days to fill a third plane with emergency supplies for distribution in the hardest hit areas of Puerto Rico in the aftermath of Hurricane Maria. In addition to fulfilling basic needs (i.e. water, emergency kits, food, etc.) the Puerto Rican Agenda is exploring fulfilling supply requests from the island including sources of sustainable energy through solar panels and generators.
September 27, 2017 – Update
The Puerto Rican Agenda partners with New Life Covenant to secure a second airplane loaded with supplies and generators on Wednesday, September 27.  The shipment will be delivered by a cargo plane underwritten by United Airlines and with the support of Governor Bruce Rauner.
The Puerto Rican Agenda in Chicago launched a fundraising campaign, Pallets and Planes, to provide immediate relief to those affected by Hurricane Maria in Puerto Rico on Friday, September 22 at Segundo Ruiz Belvis Cultural Center. In a period of 48 hours, the members of the Puerto Rican Agenda raised nearly $70,000, assessed the immediate needs on the island, purchased pallets of emergency supplies, secured transportation courtesy of Custom Trucking Company, and loaded a cargo plane underwritten by United Airlines.
Supplies arrived in San Juan, Puerto Rico on Monday, September 25—less than five days after Hurricane Maria made landfall on the island as a Category 4 hurricane. Fueled completely by volunteers with contributions from Chicago's Puerto Rican community and allies, the grassroots effort was bolstered by the support of civic leaders including Congressman Luis V. Gutierrez and Mayor Rahm Emanuel who coordinated the transportation logistics for the first flight and Mayor Carmen Yulín Cruz who received the shipment for distribution to the hardest hit areas including hospitals and safety centers around the island. The plane made its way back to Chicago with 300 evacuees.
The signature strategy of the Pallets and Planes campaign is to ensure the greatest impact of donations through the most effective methods. Each monetary donation contributes to a relief fund used to purchase pallets of emergency supplies pre-packaged according to federal shipping regulations directly from warehouses. Shipments are personally received by municipal leadership in Puerto Rico for immediate distribution across the island.
The Puerto Rican Agenda is mobilizing resources to fill a third airplane with critical resources.
About The Puerto Rican Agenda
The Puerto Rican Agenda is an unincorporated organization of local Puerto Rican leaders that influences policy for the advancement of the Puerto Rican community in Chicago. Over the past two decades, the Agenda continues to develop and execute a community-driven vision for the Humboldt Park Area, where most Puerto Ricans in Chicago live, and Paseo Boricua, a business and entertainment district on Division Street between California and Western.
About Segundo Ruiz Belvis Cultural Center
Segundo Ruiz Belvis Cultural Center (SRBCC) is the longest-standing Latino cultural center in Chicago. Established in 1971, it was named in honor of Segundo Ruiz Belvis, a Puerto Rican patriot and member of a secret abolitionist society that freed slave children under Spanish rule.
In that spirit, SRBCC realizes its mission to preserve and promote appreciation of the culture and arts of Puerto Rico and Latin America, with a unique emphasis on its African heritage.
Segundo Ruiz Belvis Cultural Center is the non-profit fiscal agent of this initiative.