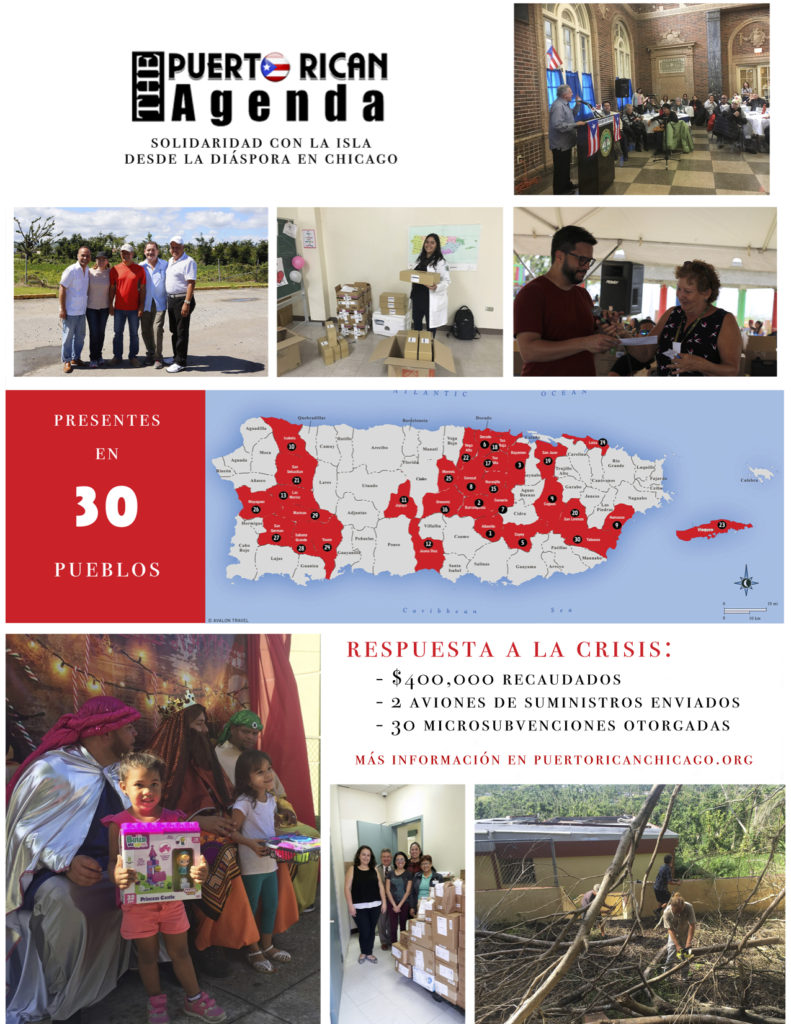 Click on the image above to visit our crowdfunding campaign.
Segundo Ruiz Belvis Cultural Center partners with The Puerto Rican Agenda's Hurricane Relief Effort: "Pallets and Planes", now "Pallets in Puerto Rico"
To date, The Puerto Rican Agenda has delivered $300,000 in emergency supplies and mico-grants directly to 30 municipalities (see map above) in Puerto Rico.  Our strategy includes purchasing pallets directly from Puerto Rican distributors and working closely with Puerto Rican officials and non-profit organizations to distribute supplies and issue micro-grants .
Check out our video documenting one of the supply distributions in October 2017 here. Our goal is to deliver immediate aid while stimulating the local economy.
3Rs for Puerto Rico: Rescue, Relief, Rebuild, a fundraising campaign launched by the Puerto Rican Agenda in Chicago, provides immediate relief to those affected by Hurricane Maria in Puerto Rico.  The campaign launched on Friday, September 22 at Segundo Ruiz Belvis Cultural Center, non-profit 501c3 fiscal agent of the project, and raised nearly $70,000 that evening. In a period of 48 hours the members of the Puerto Rican Agenda assessed the immediate needs on the island, purchased pallets of emergency supplies, secured transportation courtesy of Custom Trucking Company, and loaded the first cargo plane underwritten by United Airlines.
Supplies arrived in San Juan, Puerto Rico on Monday, September 25—less than five days after Hurricane Maria made landfall on the island as a Category 4 hurricane. Fueled completely by volunteers with contributions from Chicago's Puerto Rican community and allies, the grassroots effort was bolstered by the support of civic leaders including Congressman Luis V. Gutierrez and Mayor Rahm Emanuel who coordinated the transportation logistics for the first flight and Mayor Carmen Yulín Cruz who received the shipment for distribution to the hardest hit areas including hospitals and safety centers around the island. The first plane made its way back to Chicago with 300 evacuees.
The signature strategy of the 3Rs campaign is to ensure meaningful and immediate impact of donations through the most effective and transparent methods. Each monetary donation contributes to the Puerto Rican Relief Fund used to purchase pallets of emergency supplies on the island to help stimulate the local economy or to issue a micro-grants to community-based organizations and municipalities for specific initiatives.  The Puerto Rican Agenda  works directly with municipal leaders and community-based organizations in Puerto Rico for immediate distribution of supplies across the island.
The Puerto Rican Agenda partnered with New Life Covenant to send a second airplane loaded with emergency supplies and generators on Thursday, September 28, 2017.  The cargo plane, underwritten by United Airlines and with the support of Governor Bruce Rauner, departed from O'Hare International at 8 AM (see coverage here).
Recognized for its effective strategy and impact, in February 2018 The Puerto Rican Agenda was awarded $100,000 from the Chicago Community Trust to continue efforts on the island and with the resettlement in Chicago.
On March 23, 2018, The Puerto Rican Agenda joined the Chicago Delegation with Mayor Rahm Emmanuel and Congressman Luis Gutierrez to deliver 5,200 pounds of medical and solar supplies for several towns and $43,000 in micro-grants.
About The Puerto Rican Agenda
The Puerto Rican Agenda is a non-profit organization of local Puerto Rican leaders that influence policy for the advancement of the Puerto Rican community in Chicago and throughout the diaspora. Over the past two decades, the Agenda continues to develop and execute a community-driven vision for the Humboldt Park Area, where most Puerto Ricans in Chicago live, and Paseo Boricua, a business and entertainment district on Division Street between California and Western.
About Segundo Ruiz Belvis Cultural Center
Segundo Ruiz Belvis Cultural Center (SRBCC) is the longest-standing Latino cultural center in Chicago. Established in 1971, it was named in honor of Segundo Ruiz Belvis, a Puerto Rican patriot and member of a secret abolitionist society that freed slave children under Spanish rule.
In that spirit, SRBCC realizes its mission to preserve and promote appreciation of the culture and arts of Puerto Rico and Latin America, with a unique emphasis on its African heritage.
Segundo Ruiz Belvis Cultural Center is a member organization of The Puerto Rican Agenda and the non-profit fiscal agent of this initiative. All donations are tax-deductible.
Segundo Ruiz Belvis Cultural Center recently launched the Chicago Aid for Puerto Rican Arts.