STAFF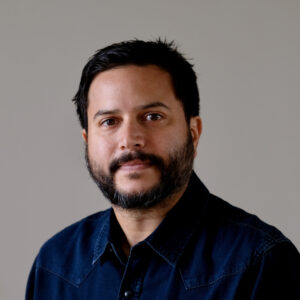 Omar Torres-Kortright
Executive Director
Born and raised in San Juan, Puerto Rico, Omar Torres-Kortright has been working as a music promoter in Chicago since 2003 when he founded Agúzate, an organization dedicated to the promotion of independent Latin music in Chicago with an emphasis on Afro-Latin culture. Through Agúzate, Omar collaborated and co-curated events with the most distinguished international music programmers in Chicago, including Old Town School of Folk Music, Sound Culture, the Chicago Department of Cultural Affairs and Special Events, and Hothouse.
After extensive management experience in the field of Language Services in healthcare with Lurie Children's Hospital (2004-2015), Omar decided to work more closely with the Puerto Rican community and the cultural sector. He joined SRBCC as Executive Director in 2015 after serving five years on the Board of Directors. Torres-Kortright is a product of the center, going from music student, to volunteer, Board member, and now Executive Director.
Under Torres-Kortright's leadership, with the organization facing monumental challenges, SRBCC created the Chicago Hurricane Aid for Puerto Rican Arts, served as leading organization and fiscal sponsor for the Puerto Rican Agenda's 3R's for PR Campaign (Rescue, Relief, Rebuild), organized a series of arts-focused COVID-19 vaccination events for youth, produced the Abrazo Virtual Series to keep arts in the community alive during the pandemic, and earned the prestigious MacArthur International Connections Fund award in 2016 and 2019, as well as Chicago Cultural Treasures in 2021. This 2021 new funding allowed SRBCC to make significant improvements to its home base in Hermosa and launch a brand new series of arts education initiatives, as well as life-changing opportunities for profesional artists of color, including artist-in-residence and international exchange programs. Omar currently sits on the Mayor's Cultural Advisory Council and is part of the 2022 Chicago Peace Fellows cohort.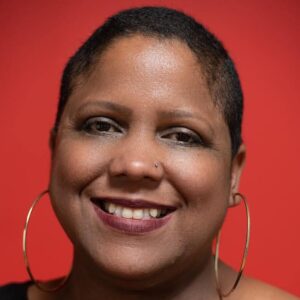 Brenda Torres-Figueroa
Co_Director / Director of Educational Programs
Segundo Ruiz Belvis Cultural Center
Brenda Torres-Figueroa is an interdisciplinary artist, curator and art educator.
Born and raised in Puerto Rico, Brenda works primarily in performance art, installations, and public art.
In 2000 she graduated from the University of Puerto Rico, Rio Piedras, and soon after moved to Chicago to pursue her MFA at The School of the Art Institute of Chicago. Brenda is also an alum of Skowhegan School of Painting and Sculpture (2002) and has participated in collective exhibitions and performance installations in both Puerto Rico and Chicago.
Brenda served as a curator of the Museum of Contemporary Art of Santurce from 2006 to 2008. After returning to Chicago in 2008, Brenda has been devoted to her art education practice and curatorial research, raising her two daughters, and branding her designs through Freedom Effect, LLC. In 2012, she started her bomba research and practice journey through an interdisciplinary lens. In 2015, she co-produced the music video "Candela" with Bomba con Buya a collaboration that preceded dozens of original designs honoring bomba tradition, resistance, cimarronaje and African Roots.
In 2018, as her homeland recovered from the devastation caused by Hurricane María she began the process of restaging and curating almost two decades of unedited work that questions the loss, grief, and resistance of the idea of home as contextualized through her recent exhibition series, Dressed as Home and Refuge.
In addition, Torres-Figueroa has been an arts educator since 2000 and licensed teacher (Visual Arts K-12) in the state of Illinois since 2012. Her extensive training in the arts has enabled her to teach full time, design curriculum and lead professional development for educators since 2008.
She taught Visual Arts and Culture for eight years at Dr. Pedro Albizu Campos High School, and became the Mission and Vision and Community Chair.
In 2016, Brenda transitioned to The Chicago High School for the Arts (ChiArts) to facilitate the Integrated Arts courses. At ChiArts, she occupied multiple roles: Professional Learning Community (PLC) Lead from 2019 to 2021. In 2021, she served as Professional Solutions Committee (PSC) member, and Senior Grade Level Lead; as well as a Delegate of the Chicago Teachers Union and Co-Chair of Anti-Racism and Anti-Bias in Education Committee.
In late 2021, she committed to the Director of Educational Programming position at Segundo Ruiz Belvis where she manages the Youth Programs. Brenda's interdisciplinary vision of arts education led her to curate an arts education program aligned with SRBCC's mission, social justice through the lens of a theory of change.
Also in 2021, she co-produced Afrorriqueñes hosted at the center. Brenda has been featured on Chicago's ABC Channel 7 Hispanic Heritage Special, Telemundo Chicago Colorism by Anabel Monge and dozens of news articles highlighting her use of art to embrace conversations about race, visibility and equity.
Brenda is a recipient of the Make a Wave 3Arts Award to Individual Artists in 2021.
Teaching Artists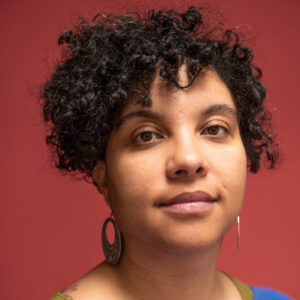 Stacy Erenberg
Vocal Teaching Artist
Afro-Caribbean Jazz and Bomba Programs
Stacy Rene Erenberg loves to sing! She has been singing since she can remember talking. Vocal expression through music is her church. Since her 2006 debut as a front woman of 10-piece Neo-Soul band Vertikal, she has performed at legendary Chicago venues such as The Jazz Showcase, The Metro, and Park West. Stacy seamlessly blends improvisational and traditional genres with sultry sweet vocals that create an inventive interpretation of Jazz, Blues and Folk music. She is currently completing a music education program at Chicago State University. Stacy is extremely excited to continue to support students at SRBCC as they explore themselves by making connections between sound, vibration, breath, and its impact on the human spirit.
Valerie Febres
Bomba Dance Instructor
Bomba dancer Valerie Febres comes directly from Puerto Rico and brings 22 years of experience in Afro-Puerto Rican music and dance to SRBCC. Her formal education was in the Santurce style, but her passion is the Loíza style, due to its cadence and strength, which are also representative characteristics of who she is.
Valerie was born in San Juan, Puerto Rico, raised in Carolina, has lived in Mexico and currently resides in Chicago (9 years). From a very early age, coming from a family dedicated to theater production, she has had the opportunity to develop and learn first-hand from great stage artists on the island. In dance, she began at a very young age with the Puerto Rican dancer and choreographer Cuca Casanova. Trained in contemporary dance at the University of Puerto Rico by choreographer Viveca Vázquez, Valerie is also a student of Bomba master Oxil Febles. Being a direct disciple of Victoria Espinosa, PhD, she learned from her the art of connecting and communicating with the audience.
All this is integrated into a holistic life path where she has met magical and healing people who have shared their knowledge with her. In addition to bringing the rich legacy of the Puerto Rican bomba, Valerie compliments this with integral elements that help her students not only have a strong stage presence, but also apply those elements to their daily lives. Her classes are an enriching safe space that allows students to connect with their ancestors and express the deepest possible human emotions through body and movement.
Valerie Febres continues to study and honor the tradition of bomba, while reimagining it and fusing it with other Latin American rhythms. This allows her to actively interact with other cultures.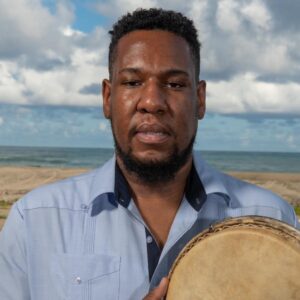 Quincy Raggs
Bomba Percussion
Quincy Raggs has been a cultural worker preserving and promoting consciousness of various art forms of the African diaspora for over 15 years in Chicago. He is a proud active member of Chicago based cultural centers and groups which promote AfroCuban religious and secular music, Bomba, Plena, Rumba, Capoeira (and everything in between).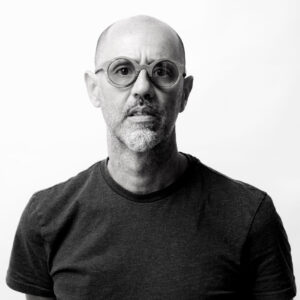 Herminio Rodríguez
Digital Photography
Herminio Rodriguez is a Professional Commercial and Conceptual photographer, and holds a Master in Fine Arts in Photographic Arts and Science from Rochester Institute of Technology in Rochester, New York. In November 2011, Rodriguez won First Prize and Acquisition Prize of FOTO MAC, the First Fine Art Photography contest sponsored by the Puerto Rico Contemporary Art Museum and UBS. With over a decade of experience designing and implementing photography classes for at-risk youth, as well as a high sensibility for teaching our younger generations in Puerto Rico, the producer of the critically-acclaimed photo exhibit "Contaminados" (2015) is now an invaluable resource for the Chicago community.
Michael Rodríguez
Afro-Latin Percussion / After School Programs Co-Instructor
Music Production Co-Instructor
Musical Director, Los Pleneros de Don Segundo
Co-Director of The Ruiz Belvis Collective
Michael has dedicated most of his professional life to building community-based education programs focusing on Afro-Latin percussion in Chicago. He founded El Ritmo School of Latin Percussion in the early 2000's to teach free weekly percussion classes in Humboldt Park, Hermosa, and Logan Square. Michael plays for various local bands, including Los Pleneros de Don Segundo, and Shades of Time.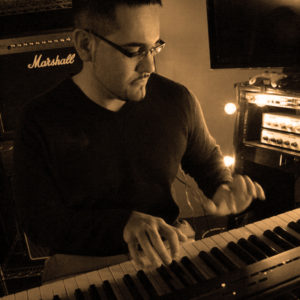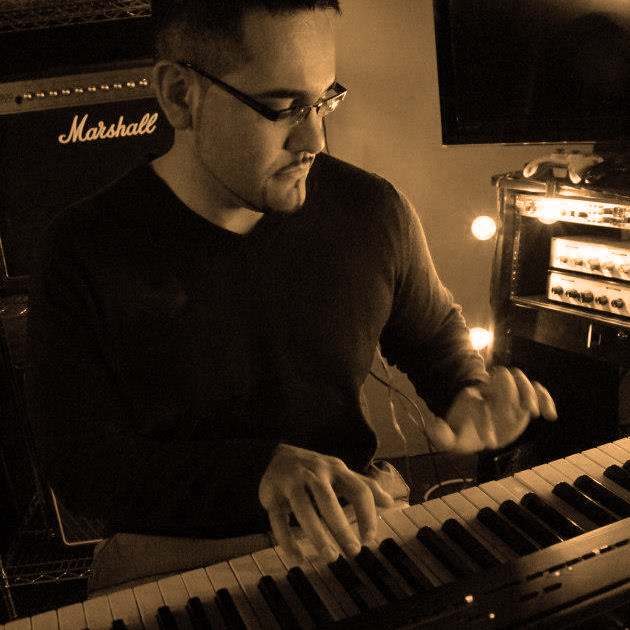 Afro-Caribbean Jazz Program Instructor
Musical Director of The Ruiz Belvis Collective
Adrian Ruiz started playing piano at the age of 16 in his high school Jazz Band which is where he discovered his passion for music. He won the Ravinia Jazz Scholar award his junior and senior year in high school.
A student of piano giant Willie Pickens, from The Elvin Jones Jazz Machine, Adrian started playing professionally at the age of 19. His young career includes a 2006 recording with internationally-renowned Chicago trombonist Vincent Gardner.
In the last 10 years, Adrian Ruiz has shared the stage as pianist for the top tier of Salsa and Jazz, including Frank Catalano, Von Freeman, Luis 'Perico' Ortiz, Ernie Adams, Frankie Vázquez, Frankie Negrón, Alison Ruble, The Drifters, Tony Vega, Pedrito Martínez, Víctor Miranda, Grammy-Nominated Angel Meléndez and his Mambo 911 Orchestra, and Grammy Winners Roberto Vizcaino, and Raul Pineda.
I