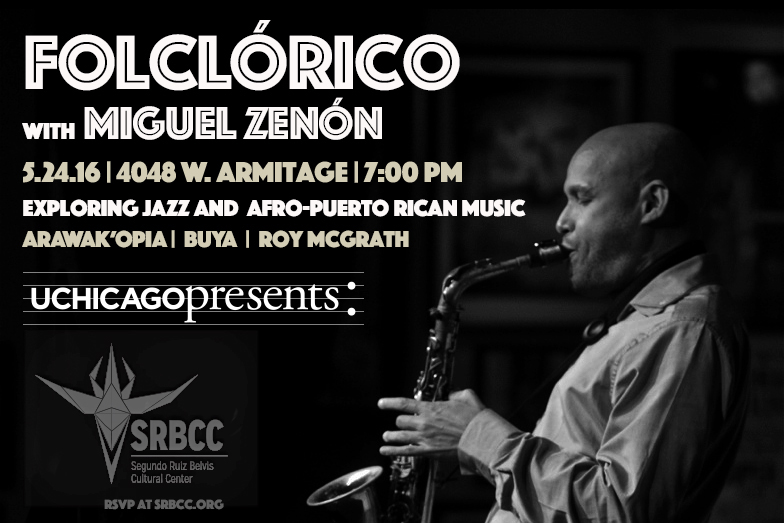 5/24/16
Segundo Ruiz Belvis Cultural Center presents…
Folclórico: An Exploration of Afro-Puerto Rican music and Jazz with Miguel Zenón
7:00 pm  | 4048 W. Armitage | FREE (Donations Welcome)
Miguel Zenón's residency presented by the University of Chicago will include a community performance  produced in partnership with Segundo Ruiz Belvis Cultural Center on May 24, 2016. The evening will include an intimate performance with local groups, including Roy McGrath, Buya and Arawak'Opia, SRBCC's Youth Bomba Ensemble.

Register
here
for this special event, which will be part of SRBCC's 45-year Anniversary Celebration.
Miguel Zenón performs on Thursday, May 26, 2016 at Logan Center.
Multiple Grammy Nominee and Guggenheim and MacArthur Fellow Miguel Zenón represents a select group of musicians who have masterfully balanced and blended the often-contradictory poles of innovation and tradition. Widely considered as one of the most groundbreaking and influential saxophonists of his generation, he has also developed a unique voice as a composer and as a conceptualist, concentrating his efforts on perfecting a fine mix between Latin American Folkloric Music and Jazz.
Born and raised in San Juan, Puerto Rico, Zenón studied classical saxophone at the Escuela Libre de Música in Puerto Rico before receiving a bachelor's degree in Jazz Studies from Berklee College of Music, and a master's degree in Jazz Performance at Manhattan School of Music. Zenón's more formal studies, however, are supplemented and enhanced by his vast and diverse experience as a sideman and collaborator. Throughout his career he has  divided his time equally between working with older jazz masters and  working with the music's younger innovators –irrespective of styles and genres. The list of musicians Zenón has toured and/or recorded with includes: The SFJAZZ Collective, Charlie Haden, Fred Hersh, Kenny Werner, David Sánchez, Danilo Perez, The Village Vanguard Orchestra, The Mingus Big Band, Bobby Hutcherson and Steve Coleman.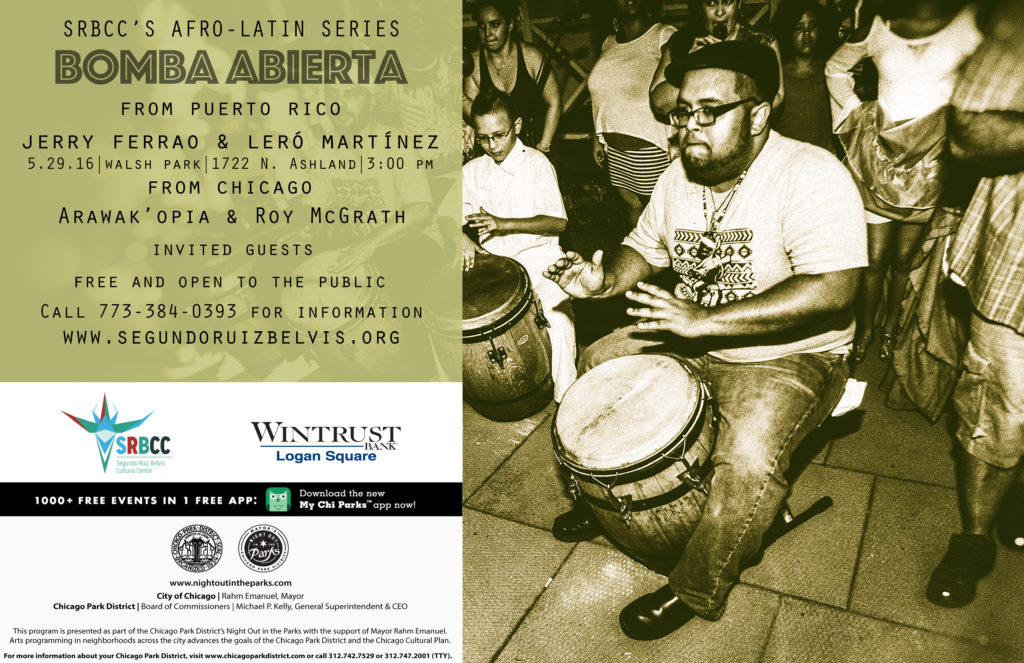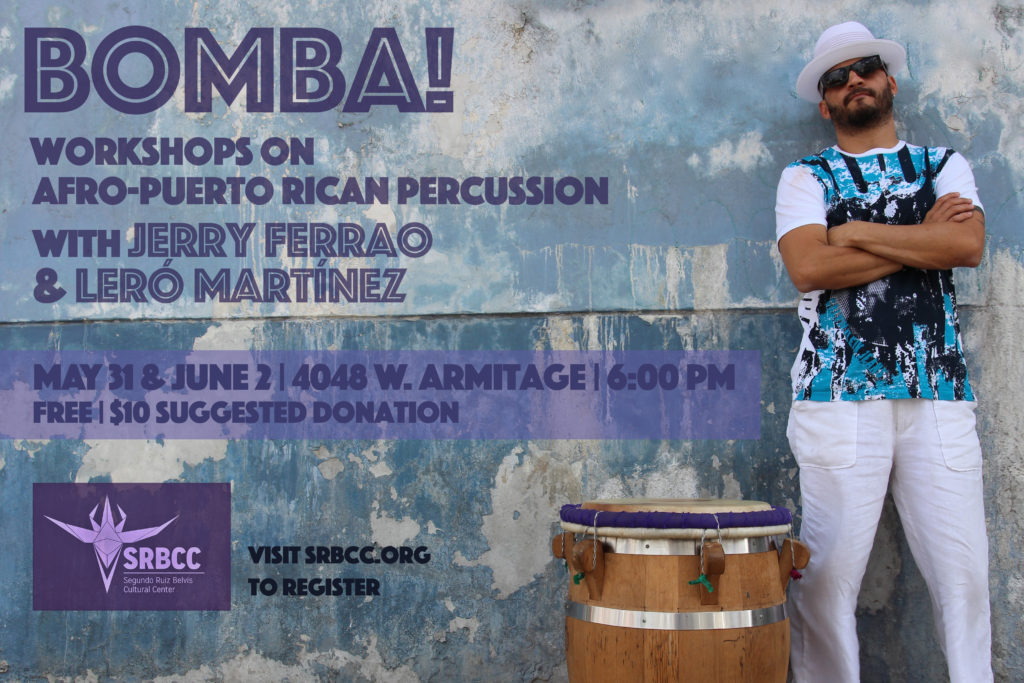 5/31/16 & 6/2/16

Segundo Ruiz Belvis Cultural Center presents…
Bomba! Afro-Puerto Rican Percussion Workshops with Jerry Ferrao and Leró Martínez
6:00 pm – 8:00 pm  | 4048 W. Armitage | FREE | $10 suggested donation

Join us for a unique workshop with two of Puerto Rico's most recognized Bomba percussionists, composers, and recording artists: Jerry Ferrao and Leró Martínez. They will be conducting two 2-hour workshops for beginners and advanced drummers. Click
here
for details and registration.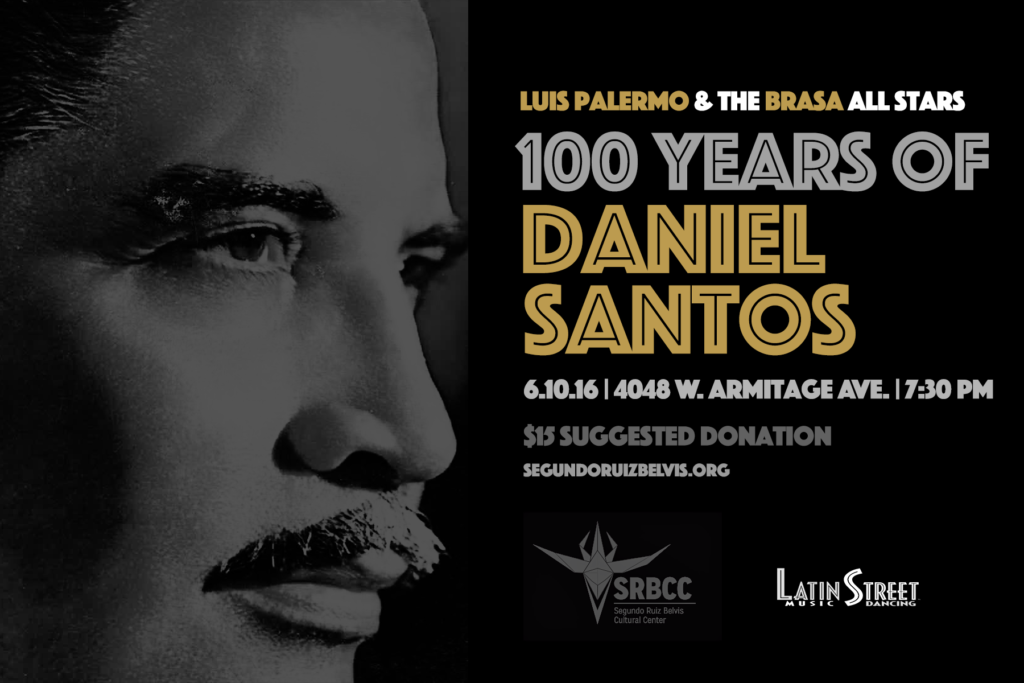 6/10/16
Segundo Ruiz Belvis Cultural Center & Latin Street Dancing present…
100 Years of Daniel Santos
8:00 pm  | 4048 W. Armitage | $15 suggested donation
This event is part of the celebration of Segundo Ruiz Belvis Cultural Center's 45 years promoting Afro-Latino arts and culture in Chicago.
It's been 100 years since the birth of one of the most captivating voices in the Latin American song book. Born in the Trastalleres neighborhood of Santurce, Puerto Rico in February 6, 1916, Daniel Santos grew up between the island and New York, where his family was forced to move seeking better living conditions.
Daniel emerged as a star at an early age, and lived for long periods of time in Puerto Rico, New York, Cuba, México and Ecuador. Most of his professional career includes hits with Cuarteto Flores, Miguelito Valdés, Xavier Cougat (New York), and La Sonora Matancera (Cuba). An avid composer, Santos wrote more than 400 songs and became and instant icon in Puerto Rican and Latin American music history.
Luis Palermo & La Brasa All Stars bring a tribute to Daniel Santos' most danceable repertoire in this special evening at SRBCC. Brought to you in part by Latin Street Dancing. Donations collected at this event will benefit Segundo Ruiz Belvis Cultural Center's music programs.
Segundo Ruiz Belvis Cultural Center presents…
MIRAMAR: Dedication to Sylvia Rexach
Saturday, June 25, 2016 | 4048 W. Armitage  | 7:00 pm | $20 suggested donation

About Miramar
Miramar ("look to the sea") brings nostalgic love songs to a new audience and generation. They revive the bolero, a Latin A
merican song form that can be compared to the classic American songbook, by following in the footsteps of the great troubadours of the 1950's and 60's. Their repertoire includes a mix of original and traditional classic songs from all the Americas, and are especially influenced by the two-singer "duo" tradition of Puerto Rico. They also include a selection of Greek songs that came out of a similar international song movement that paralleled the Latin American bolero revolution.
Miramar is lead by the powerful singing "duo" of Rei Alvarez (Bio Ritmo) and Laura Ann Singh (Quatro Na Bossa). "It is undeniably some of the most beautiful singing of two people in harmony that you'll ever hear" says band leader/pianist Marlysse Simmons. Alvarez a native of Ponce, Puerto Rico grew up listening to the traditional bolero music and always dreamed of having his own group. "Marlysse and I worked together for many years in Bio Ritmo and always talked about forming a bolero group but it wasn't until we meet Laura Ann, that it finally came together".
About Sylvia Rexach
In Puerto Rico, Rexach has attained cult status. Born in 1922 into a well-off family, Rexach was a self taught pianist and guitarist. A fiercely independent woman, Rexach eschewed the traditional path then available to women, and embraced the lifestyle of San Juan's bohemia of which she became a central character. She began to compose and write poetry in her teenage years and went on to form the first Puerto Rican all female band, Las Damiselas. She contributed a regular column to El Diario de Puerto Rico, wrote radio skits in which she also acted and was one of the founders of SPACEM, the Puerto Rican Society of Authors and Composers.
Rexach sometimes performed her own songs accompanied by guitarist Tuti Umpierre but she never really considered herself a singer. Still, the one record we have of her singing her own songs is a masterpiece of raw emotion and intimacy, comparable in intensity to some of the work or Chavela Vargas or Violeta Parra .
Sylvia Rexach died in 1961, at the age of 39, from stomach cancer. Her songs have since become part or the Puerto Rican canon, but she remains mostly unknown outside of her native island.