All SRBCC programs receive partial funding from CityArts Grants from the City of Chicago's Department of Cultural Affairs & Special Events, The Illinois Arts Council, Driehaus – MacArthur Funds for Arts and Culture, Gaylord & Dorothy Donnelley Foundation, and Field Foundation of Illinois.
SPECIAL MASTER CLASS EVENT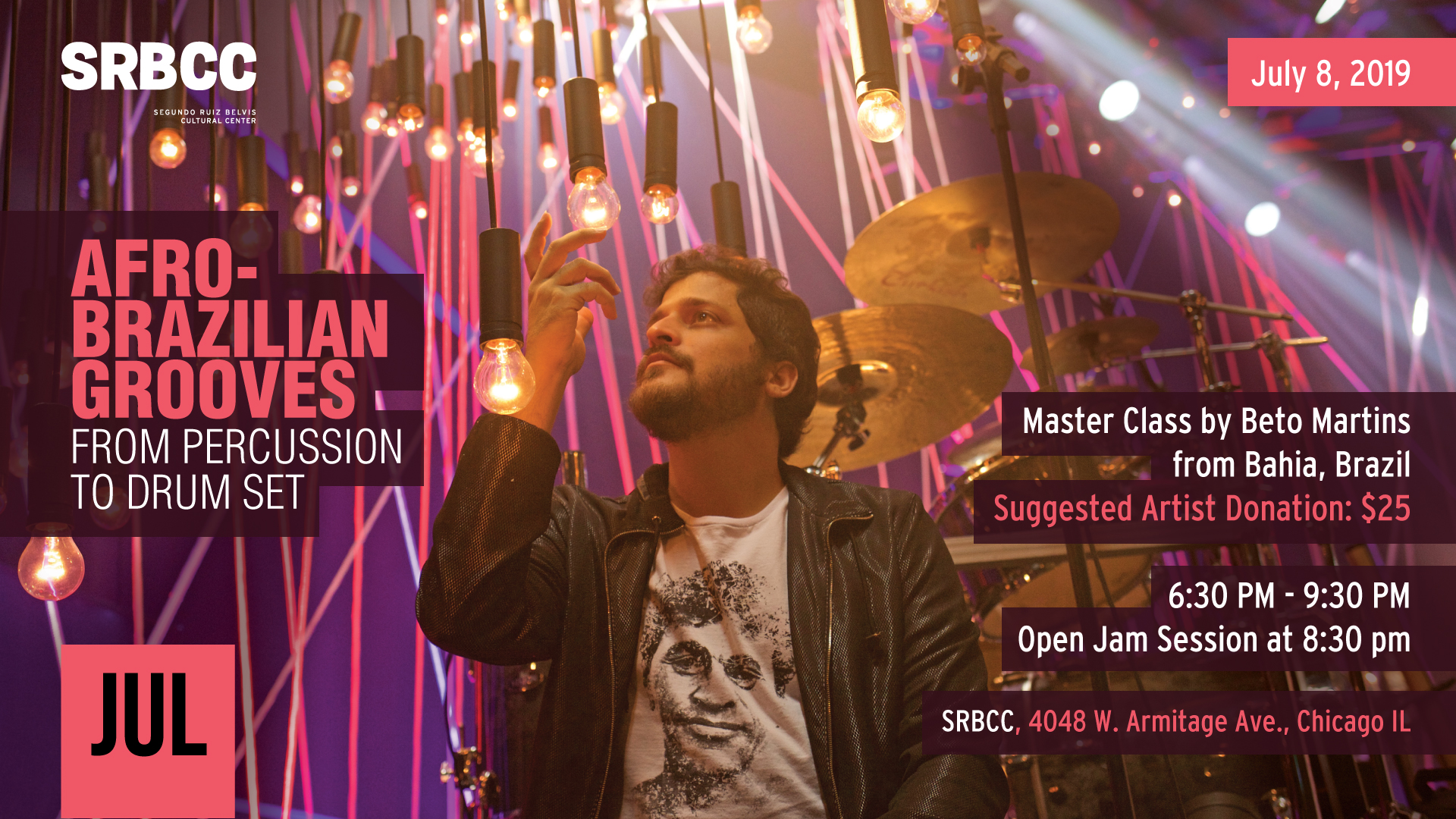 Mon, July 8, 2019
4048. W. Armitage Ave. | $25 Donation
6:30 PM – 9:30 PM CDT
AFRO-BRAZILIAN GROOVES: FROM PERCUSSION TO DRUM SET
Beto Martins explores the role of the drum set in the music of Bahia, Brazil. This event will end with a jam session lead by Martins and SRBCC's family of musicians.
In his master class, Beto Martins will explore the role of the drum set in the music of Bahia, presenting rhythms from Candomblé, Blocos-Afro, and Axé Music. As the Brazilian state with the largest number of African descendants, due to the slave trade, Bahia possesses great rhythmic richness and diversity. By first teaching specific rhythms as they are played on percussion instruments, Martins will then demonstrate how he and others adapt these rhythms to drum set. He will discuss the history and evolution of these rhythms as well as the relationship between drum set and percussion, by showing different ways the drum set plays while both accompanied and unaccompanied by other percussionists. Through his original compositions, Martins will also demonstrate applications of Afro-Brazilian rhythms in an instrumental jazz context.

SRBCC offers a yearly artistic series that celebrates Puerto Rican arts and culture and promotes collaborations between Chicago-based artists and artists coming from Puerto Rico. After years of naming the monthly celebration after classic Puerto Rican songs (Las Caras Lindas 2017, and Borinken Me Llama 2018), SRBCC's 2019 series is inspired by the 1950's classic by Tito Henríquez "Bello Amanecer" (Beautiful Sunrise). While "Borinken Me Llama 2018" (Puerto Rico is Calling 2018) focused on the emergency and humanitarian crisis immediately after hurricane María, "Bello Amenecer" will address the challenges faced by Puerto Rican artists with an eye on emergent projects and the new wave of creative minds that have decided to stay, reconstruct, reinvent, and redefine the future of arts on the island.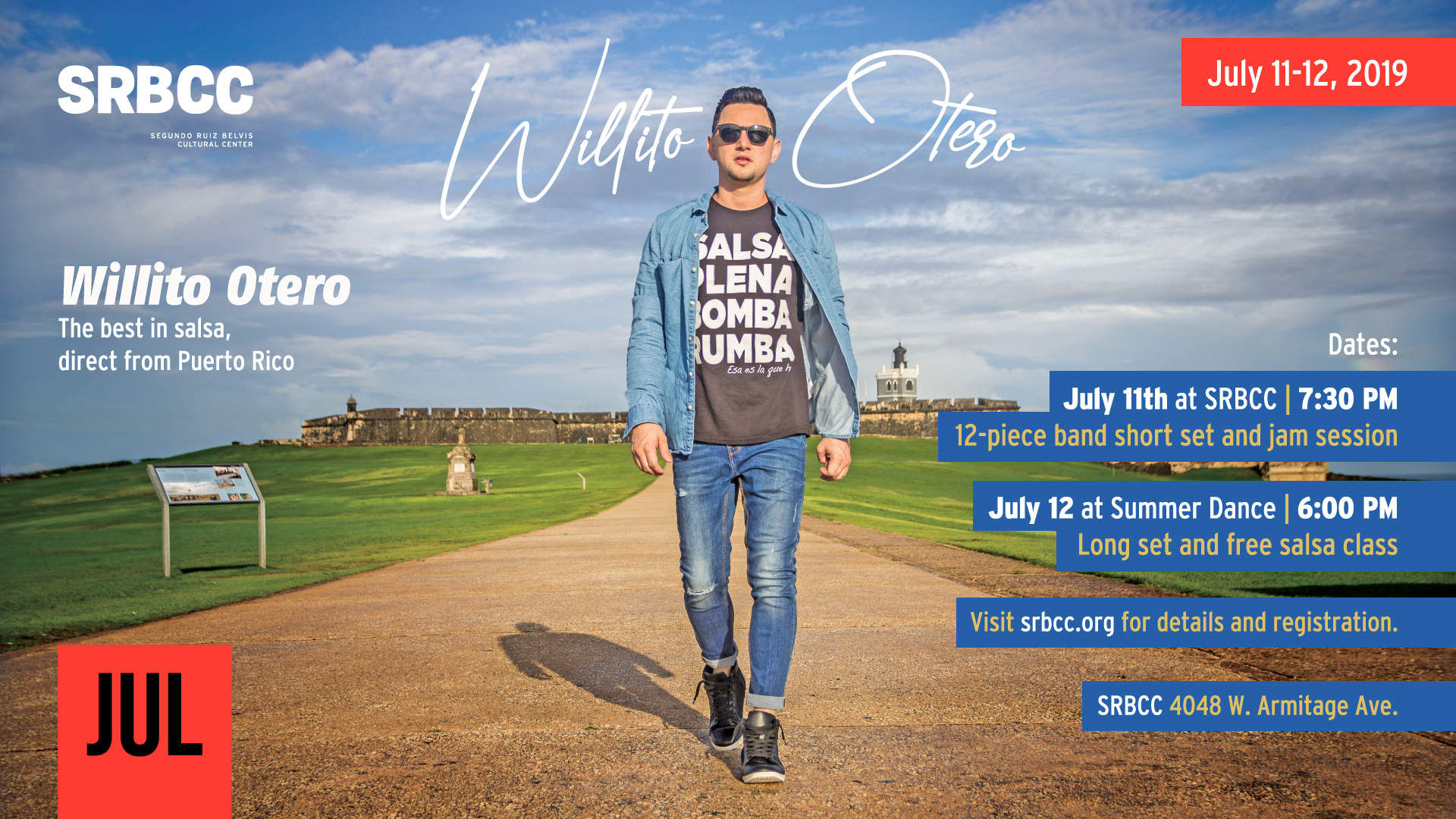 Thursday, July 11, 2019
4048. W. Armitage Ave. | FREE | $10 Suggested Donation
7:00 PM – 9:00 PM CDT
WILLITO OTERO LIVE SET AND JAM SESSION
Willito Otero, one of the few young voices of the sonero tradition comes directly from "La Isla del Encanto" to join Chicago veteran Nathan Rodriguez and San Juan-based Musical Director Savier A. Diaz Martínez in a 12-piece of our city's top salsa talent. After their live set, they will join the young apprentices from SRBCC's Afro-Caribbean Jazz and Afro-Latin Percussion programs in an all-out jam session.
This show will serve as a preview and dress rehearsal of their 90-minute concert on 7/12/19 at Summer Dance during this year's edition of Taste of Chicago.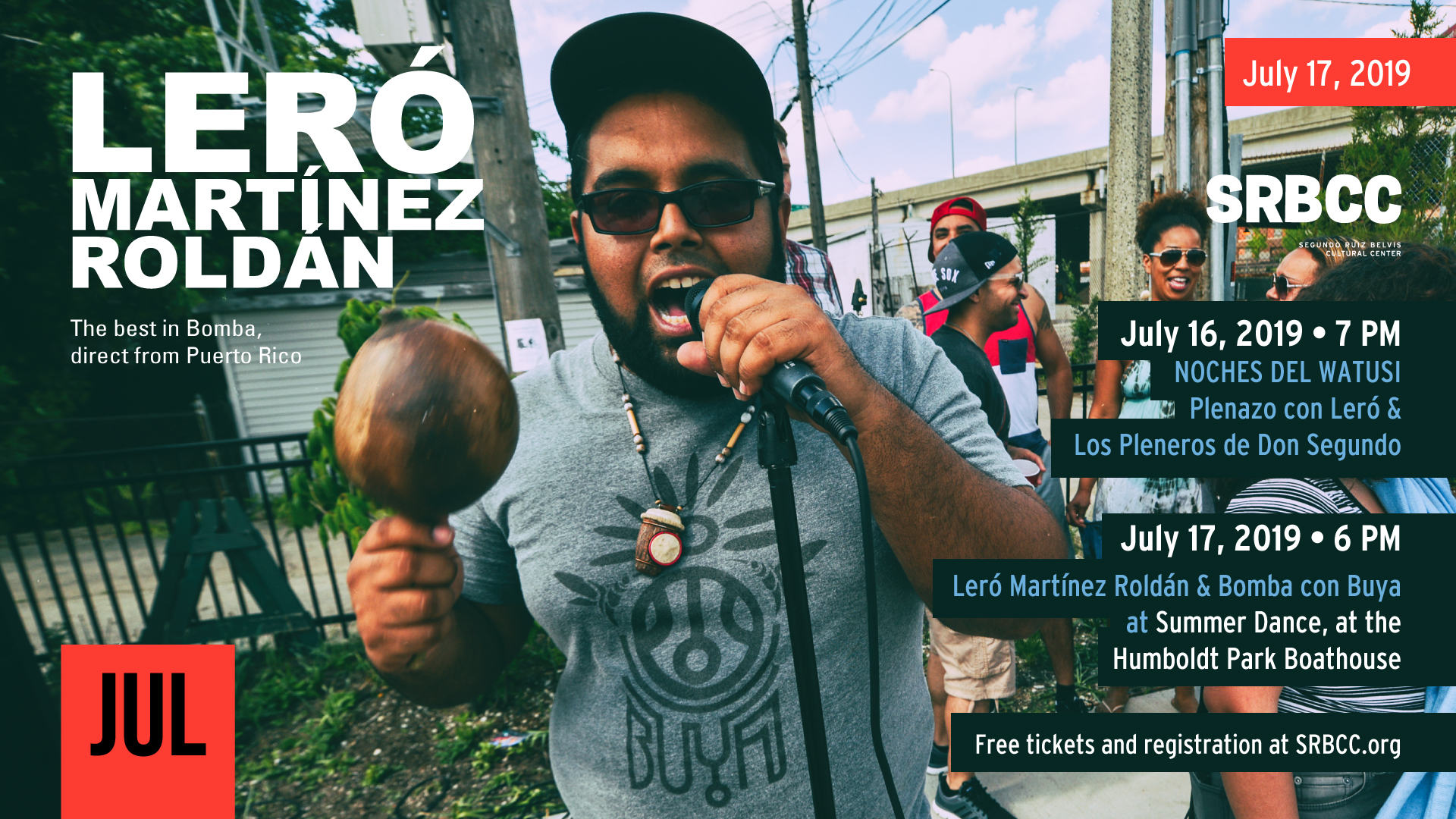 Tuesday, July 16, 2019
4048. W. Armitage Ave. | FREE | $10 Suggested Donation
7:00 PM – 9:00 PM CDT
NOCHES DEL WATUSI FEATURING LERO MARTINEZ ROLDAN
If you go to Calle Cerra in Santurce on a Thursday night, you will hear some of the best played panderos from one of the most consistent plena nights in Puerto Rico: "Noches de Plena en la Esquina el Watusi", organized by Leró Martínez and Boricua Soy.
Noches del Watusi will be a tribute to that musical corner and those pleneros that keep the tradition alive in one of the most productive times that Afro-Boricua music has seen in years.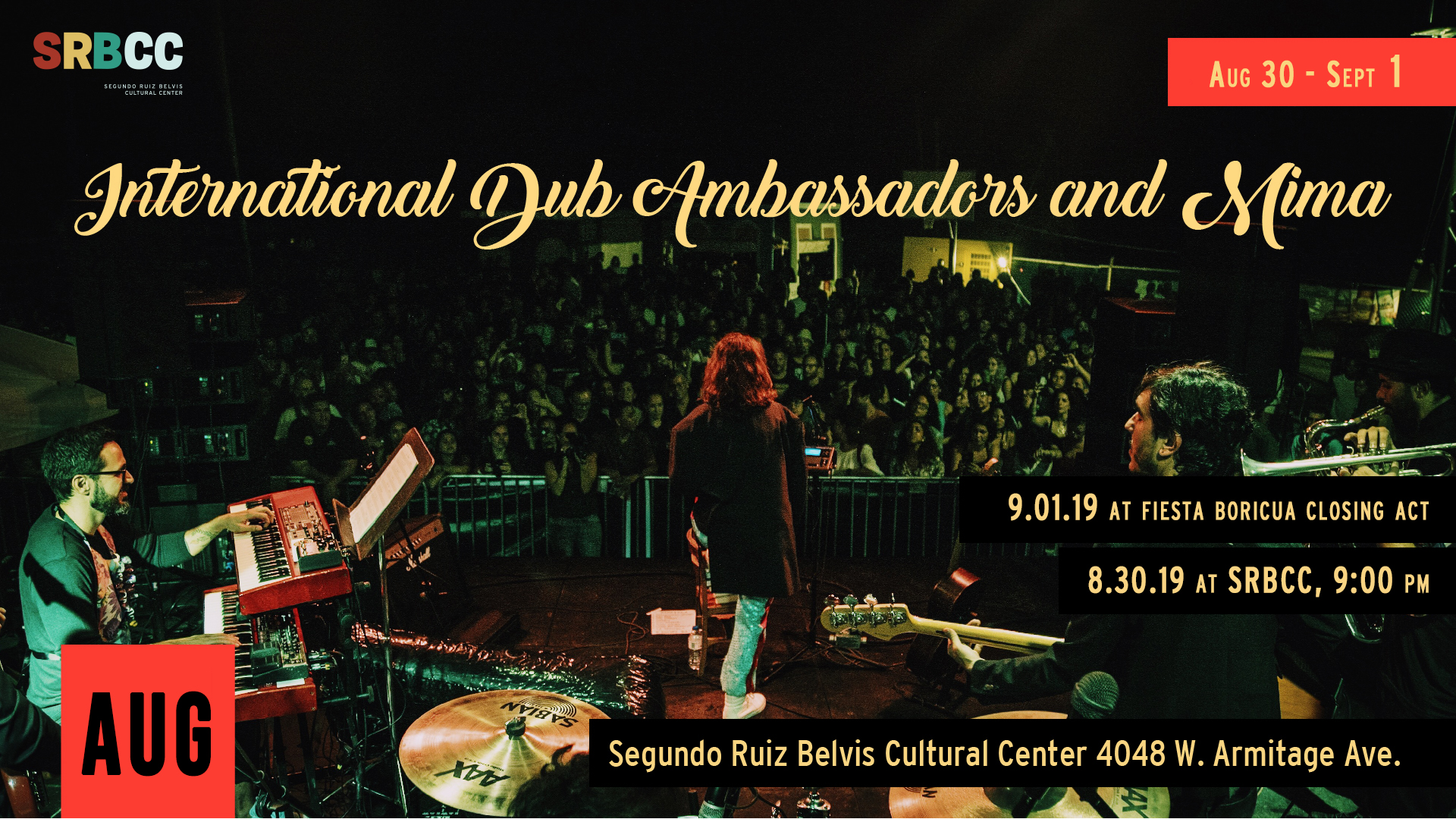 Friday, August 30, 2019
4048. W. Armitage Ave. | FREE | $10 Suggested Donation
9:00 PM – 11:00 PM CDT
DOS AMORES: MIMA AND INTERNATIONAL DUB AMBASSADORS
The collaboration between Mima and International Dub Ambassadors emerged after several live performances together, including a memorable staging at La Perla during Fiestas de la Calle San Sebastián in 2018. From there, they went on to the studios of Little Big Audio, where they recorded under the direction of engineers Nicolás Linares and Daniel Lo Presti.
As Mima tells us, the single "Dos amores" is a "seis" in dub and reggae version rewritten by the artist, in which " I aim to conjure La Calandria and Chuíto el de Bayamón through witch cries that replace the voice of the Puerto Rican cuatro."
---
ONGOING PROGRAMS AND EVENTS
El Circo de la Ausencia, an exhibit by Y No Habia Luz until July 2019 at The National Museum of Puerto Rican Arts and Culture. Visit nmprac.org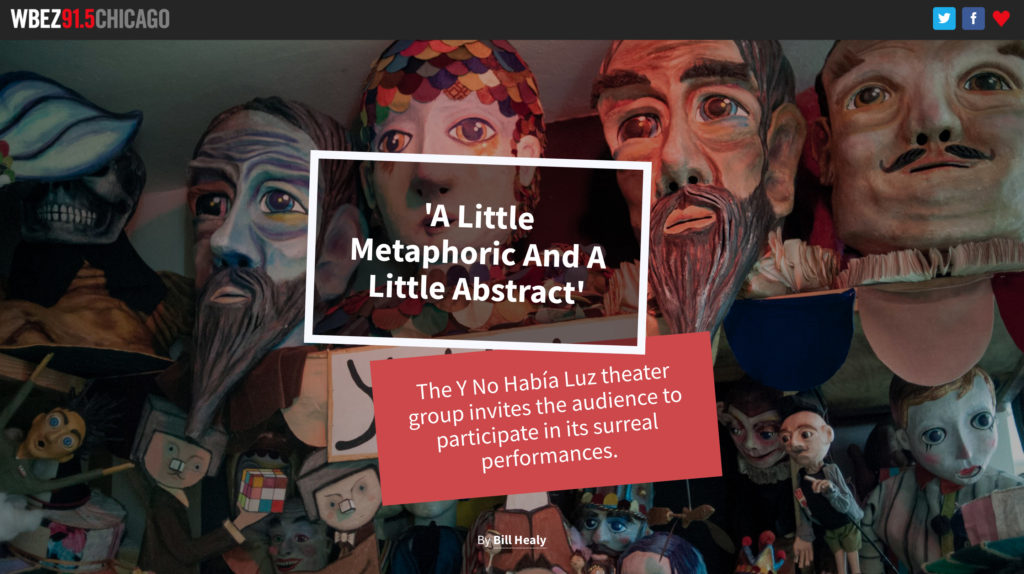 Read the interactive story by WBEZ's Bill Healy here.
Hear SRBCC's Executive Director Omar Torres-Kortright's interview with Worldview's Jerome McDonnell from WBEZ here.
Our funders include The Driehaus Foundation, The Chicago Community Trust, MacArthur Foundation, and The Field Foundation of Illinois.

All programs are supported in part by the Chicago Department of Cultural Affairs and Special Events's City Arts Grant and receive operational support from the Illinois Arts Council.