All SRBCC programs receive partial funding from The Illinois Arts Council, Driehaus – MacArthur Funds for Arts and Culture, Gaylord & Dorothy Donnelley Foundation, and Field Foundation of Illinois.

SRBCC offers a yearly artistic series that celebrates Puerto Rican arts and culture and promotes collaborations between Chicago-based artists and artists coming from Puerto Rico. After years of naming the monthly celebration after classic Puerto Rican songs (Las Caras Lindas 2017, and Borinken Me Llama 2018), SRBCC's 2019 series is inspired by the 1950's classic by Tito Henríquez "Bello Amanecer" (Beautiful Sunrise). While "Borinken Me Llama 2018" (Puerto Rico is Calling 2018) focused on the emergency and humanitarian crisis immediately after hurricane María, "Bello Amenecer" will address the challenges faced by Puerto Rican artists with an eye on emergent projects and the new wave of creative minds that have decided to stay, reconstruct, reinvent, and redefine the future of arts on the island.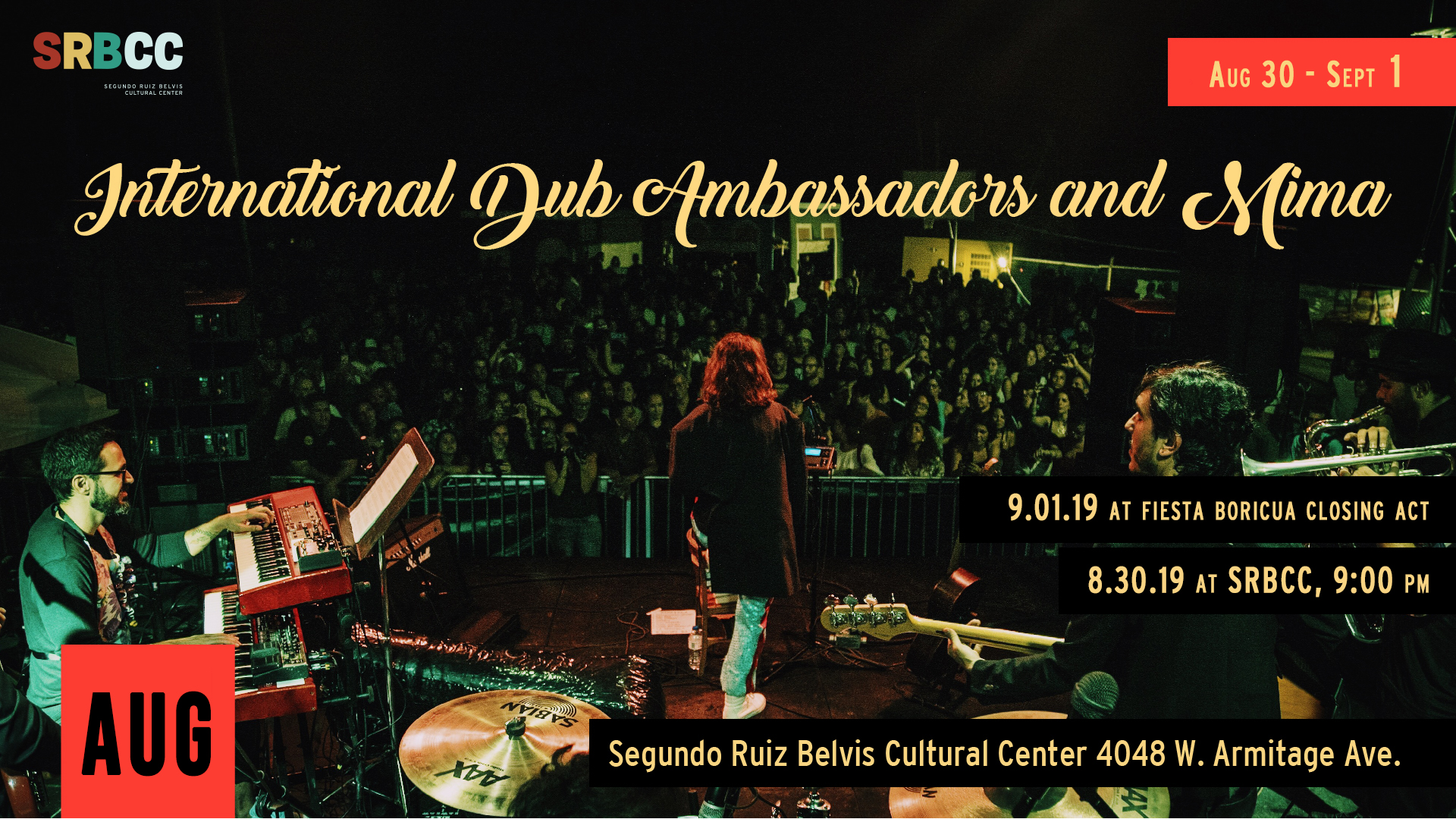 Friday, August 30, 2019
4048. W. Armitage Ave. | FREE | $10 Suggested Donation
9:00 PM – 11:00 PM CDT
DOS AMORES: MIMA AND INTERNATIONAL DUB AMBASSADORS
Yarimir Cabán (Mima) bravely embraces change as one of the defining features of her music, constantly exploring and reinterpreting her craft. A vanguard artist and pillar in the Puerto Rican alt-music scene, Mima represents both the struggle and viability of the independent musician in Puerto Rico. Hailing from the concrete jungles of the oldest colony in the world, the International Dub Ambassadors are Puerto Rico's preeminent Dub Reggae band. Combining heavy bass lines with psychedelic synthetic effects, the Ambassadors speak truth without the need for useless words.
---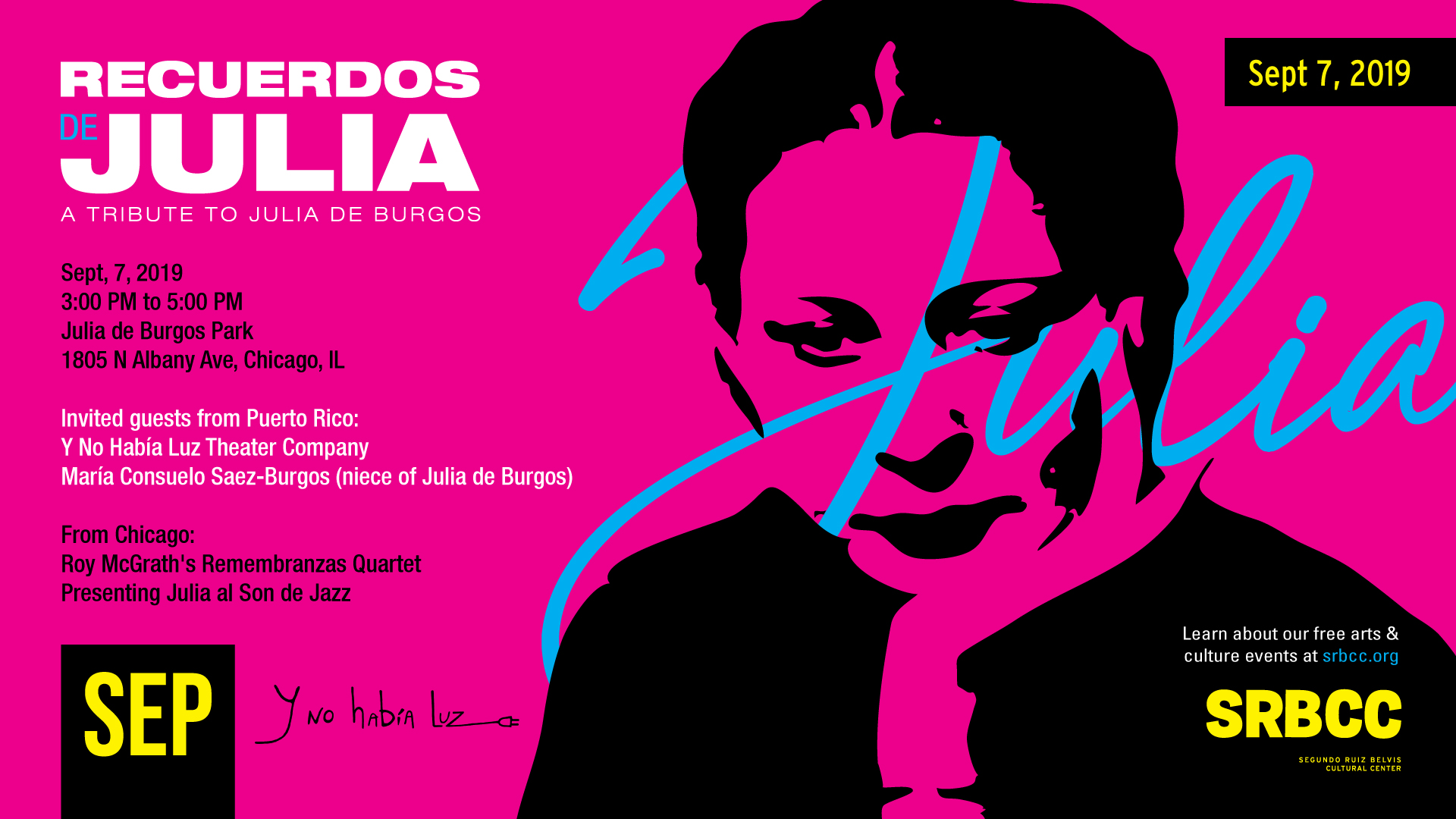 Saturday, September 7, 2019
Julia de Burgos Park, 1805 N. Albany| FREE
3:00 PM – 5:00 PM, CST
RECUERDOS DE JULIA: A TRIBUTE TO JULIA DE BURGOS
Special guest María Consuelo Saez-Burgos, niece and official representative of the estate of the legendary Puerto Rican poet Julia de Burgos comes to Chicago for the first time after the opening of the Julia the Burgos Park by the Bloomingdale Trail (The 606). She will be joined by Chicago-based Puerto Rican Saxophonist Roy McGrath, his Remembranzas Quartet presenting Burgos-inspired Jazz, and Y no Había Luz Theater Company, coming directly from Puerto Rico.
This SRBCC production is made possible thanks to a collaboration with Friends of the Bloomingdale Trail, Night Out in the Parks, and The Trust for Public Land.
Segundo Ruiz Belvis Cultural Center offers a yearly artistic series that celebrates Puerto Rican arts and culture, and promotes collaborations between Chicago-based artists and artists coming from the Island. Night Out in the Parks brings these carefully-curated events exploring theater, music and dance to green spaces across the city in a special partnership with Chicago's longest-standing Latino Cultural Center.
ONGOING PROGRAMS AND EVENTS
El Circo de la Ausencia, an exhibit by Y No Habia Luz until September 2019 at The National Museum of Puerto Rican Arts and Culture. Visit nmprac.org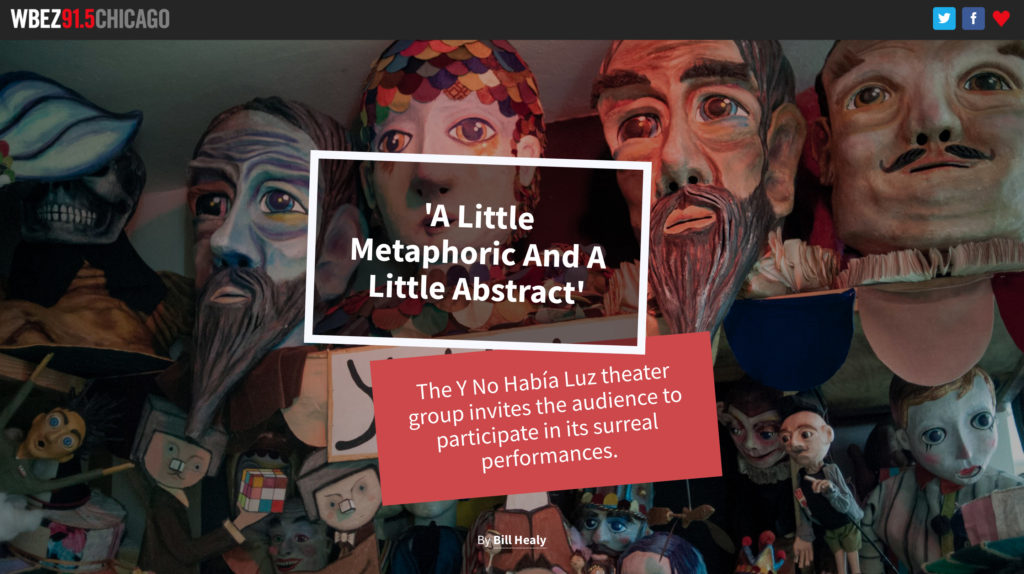 Read the interactive story by WBEZ's Bill Healy here.
Hear SRBCC's Executive Director Omar Torres-Kortright's interview with Worldview's Jerome McDonnell from WBEZ here.
Our funders include The Driehaus Foundation, The Chicago Community Trust, MacArthur Foundation, and The Field Foundation of Illinois.