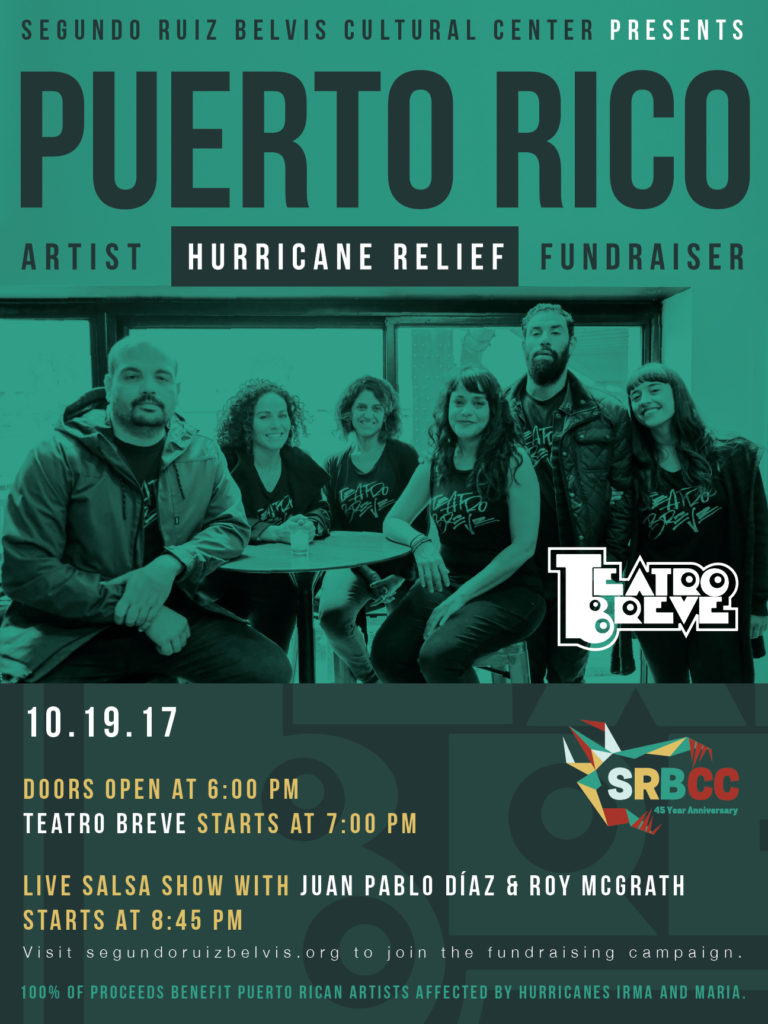 English
HURRICANE RELIEF FOR PUERTO RICAN ARTISTS
SRBCC is announcing that 100% of its Annual Gala proceeds will be donated to the Chicago Hurricane Aid for Puerto Rican Artists in collaboration with The Puerto Rican Agenda. A special fund created by Segundo Ruiz Belvis Cultural Center to support professional artists affected by Hurricanes Irma and María, the initiative will provide assistance through the following efforts:
Providing direct support to professional artists that have suffered severe losses, impacting their capacity to make a living in Puerto Rico.
Promoting opportunities for professional Puerto Rican artists from the island to tour and present their work in Chicago, in collaboration with artists from the diaspora.
Make a donation of any amount here
Details: October 19, 2017 | 6:00 pm | 4048 W. Armitage Ave. | Chicago, IL
Teatro Breve: Premier comedy theater group from Santurce, Puerto Rico. Santurce is one of the hardest-hit areas by Hurricane María in the metro area of San Juan.
One of Puerto Rico's most popular comedy troupes is bringing its brand of zany, edgy humor to Chicago.
Whether it's politics, religion, relationships or even cheesy Spanish-language variety shows, there's hardly a subject – taboo or otherwise – that hasn't been skewered by Teatro Breve, the San Juan-based company that has been together for over a decade.
Juan Pablo Díaz: 2017 Latin Grammy Nominee Juan Pablo Díaz is arguably the most original and innovative salsa project to come out of Puerto Rico in years. He is recognized by Gilberto Santa Rosa as one of the best new talents in the island's rich music scene. Chicago Musical Director: Roy McGrath.
 —————————————————————————————————————–
FONDO PARA ARTISTAS DE PUERTO RICO AFECTADOS POR EL HURACÁN
SRBCC anuncia que el 100% de las ganancias de su Gala Anual serán donadas al Chicago Hurricane Aid for Puerto Rican Artists. Un fondo especial creado por el Centro Cultural Segundo Ruiz Belvis para apoyar a artistas afectados por los huracanes Irma y María, la iniciativa proporcionará asistencia a través de los siguientes esfuerzos:
Apoyo directo a artistas profesionales que han sufrido graves pérdidas que afectan su capacidad de ganarse la vida en Puerto Rico.
Oportunidades para que artistas profesionales puertorriqueños visiten y presenten su trabajo en Chicago y otras ciudades de Estados Unidos en colaboración con la diáspora.
Detalles: 19 de octubre de 2017 | Puertas abren a las 6:00 pm | 4048 W. Armitage Ave. | Chicago. IL
Para asistir a la actividad de recaudación de fondos, visite nuestra página en Eventbrite aquí
Para hacer una donación de cualquier cantidad, haga clic aquí.
El Centro Cultural Segundo Ruiz Belvis inició una campaña de recaudación de fondos que culmina el 19 de octubre de 2017 con una velada de solidaridad con el pueblo de Puerto Rico, la cual incluirá la participación de Teatro Breve y Juan Pablo Díaz, directamente desde Puerto Rico.
Teatro Breve:
Una de las compañías de teatro y comedia más populares de Puerto Rico trae su singular marca de humor a Chicago. Ya sea política, religión, relaciones o las cursilerías de los programas de variedad en español, no hay tema considerado tabú (o de otro tipo) que no haya sido explorado por Teatro Breve. La empresa con sede en San Juan lleva más de una década de autogestión en la isla.
Juan Pablo Díaz:
Nominada al Grammy Latino de 2017, la orquesta de Juan Pablo Díaz puede ser el proyecto de salsa más original que ha salido de Puerto Rico en años. Entre otros méritos, Díaz es reconocido por Gilberto Santa Rosa como uno de los mejores talentos nuevos en la rica escena musical de la isla. Acompañamiento a cargo de Roy McGrath.
——————————————————————————————————-
SRBCC was awarded the 2016-17 Strengthening Artistic and Cultural Diversity Grant of the Chicago Community Trust for a music series titled "Las Caras Lindas". Named in honor of Ismael Rivera's 1978's classic, the series explores traditional and progressive takes on Afro-Caribbean Music seen through performances of local and touring groups. The series includes international recording artists from Cuba, Colombia, Dominican Republic and Puerto Rico.