All SRBCC programs receive partial funding from CityArts Grants from the City of Chicago's Department of Cultural Affairs & Special Events, The Illinois Arts Council, Driehaus Foundation, MacArthur Foundation, Gaylord & Dorothy Donnelley Foundation, and The Field Foundation of Illinois.
January 2019
FIESTAS DE LA CALLE | Saturday, January 19 | 6:00 PM to 11:30 PM | $35
Presented by  Segundo Ruiz Belvis Cultural Center


Ongoing
El Circo de la Ausencia, an exhibit by Y No Habia Luz until December 2018 at The National Museum of Puerto Rican Arts and Culture. Visit nmprac.org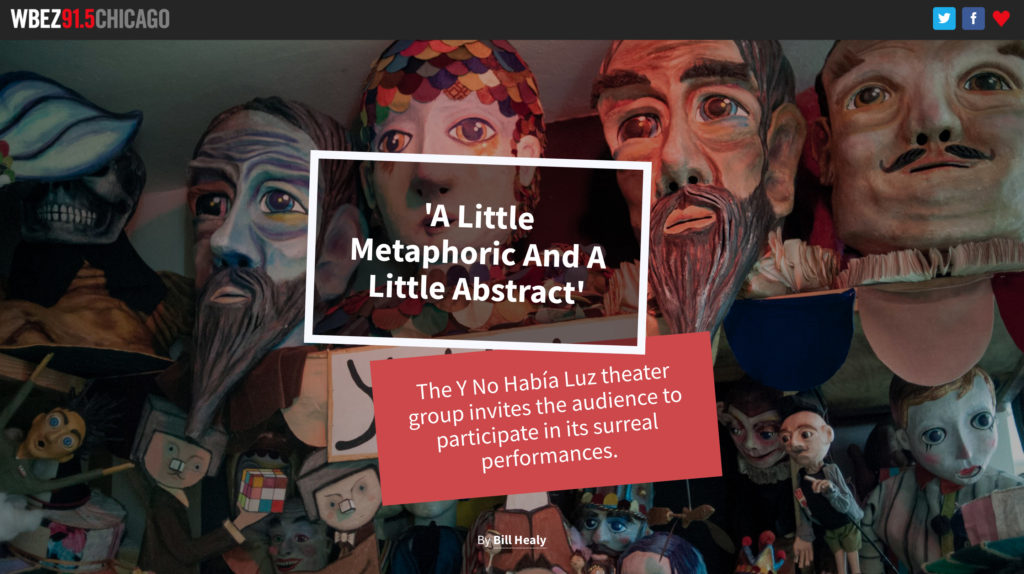 Read the interactive story by WBEZ's Bill Healy here.
Hear SRBCC's Executive Director Omar Torres-Kortright's interview with Worldview's Jerome McDonnell from WBEZ here.
About the Borinken Me Llama Series
Segundo Ruiz Belvis Cultural Center (SRBCC), Chicago's longest-standing Puerto Rican cultural center, introduces Borinken Me Llama, a new multi-arts series for 2018 that explores the Puerto Rican experience, featuring emerging and established artists hailing from the island in collaborative partnerships with Chicago-based artists of the Diaspora.
Borinken Me Llama (Borinken is Calling or "Calling Me") addresses the humanitarian emergency brought on by both Puerto Rico's economic crisis and the devastation wrought by Hurricane's Irma and María through a series of events, performances and community talks with visiting artists. Conversations will range from the current status of the art industry in Puerto Rico, and the role of art in community building throughout the island, to the innovative ways in which artists are reinventing themselves to build a sustainable post-María economy. Each community show is followed by a conversation with the artist and a reflection on the current status of Puerto Rico.
Most events will take place at SRBCC's 6,000 square foot multi-arts space located at 4048 W. Armitage Avenue in Chicago's Hermosa neighborhood.
Generous support for Borinken Me Llama is provided by The Chicago Community Trust.
About the Extended Play Series
World Music Wednesday – Extended Play is a series of free concerts curated by the Old Town School of Folk Music and funded by the Chicago Community Trust. Extended Play presents high calibre world music artists at three venues across the city; The Old Town School of Folk Music, the Segundo Ruiz Belvis Cultural Center, and the DuSable Museum of African American History. Artists are selected in close consultation with partner venues to ensure that they reflect the programming objectives and mission of all institutions. Artists will perform for three consecutive days in these venues in an effort to make the significant cultural programming at the Old Town School of Folk Music available to other institutions and communities on the South and West sides of Chicago.
Our funders include The Driehaus Foundation, The Chicago Community Trust, MacArthur Foundation, and The Field Foundation of Illinois.

All programs are supported in part by the Chicago Department of Cultural Affairs and Special Events's City Arts Grant and receive operational support from the Illinois Arts Council.