Segundo Ruiz Belvis Cultural Center presents…
Direct from Puerto Rico
Y No Había Luz Residency
Free mask and puppet-making workshops
05.26.17 – 6.03.17

Multiple dates/times |Free with RSVP
4048 W. Armitage Ave., Chicago, IL 60639
Learn the art of mask and puppet-making with Y No Había Luz, one of Puerto Rico's leading theater companies. All workshops are free and open to the public, and lead up to two major musical procession (comparsas) at The 606 Block Party on June 3, 2017 (at 4:00 pm) and at the Puerto Rican People's Parade on June 17, 2017 (1:00 pm). RSVP Required. Participants must commit to a minimum of 4 workshops and a final comparsa (6/3 or 6/17). Limited Spaces available. More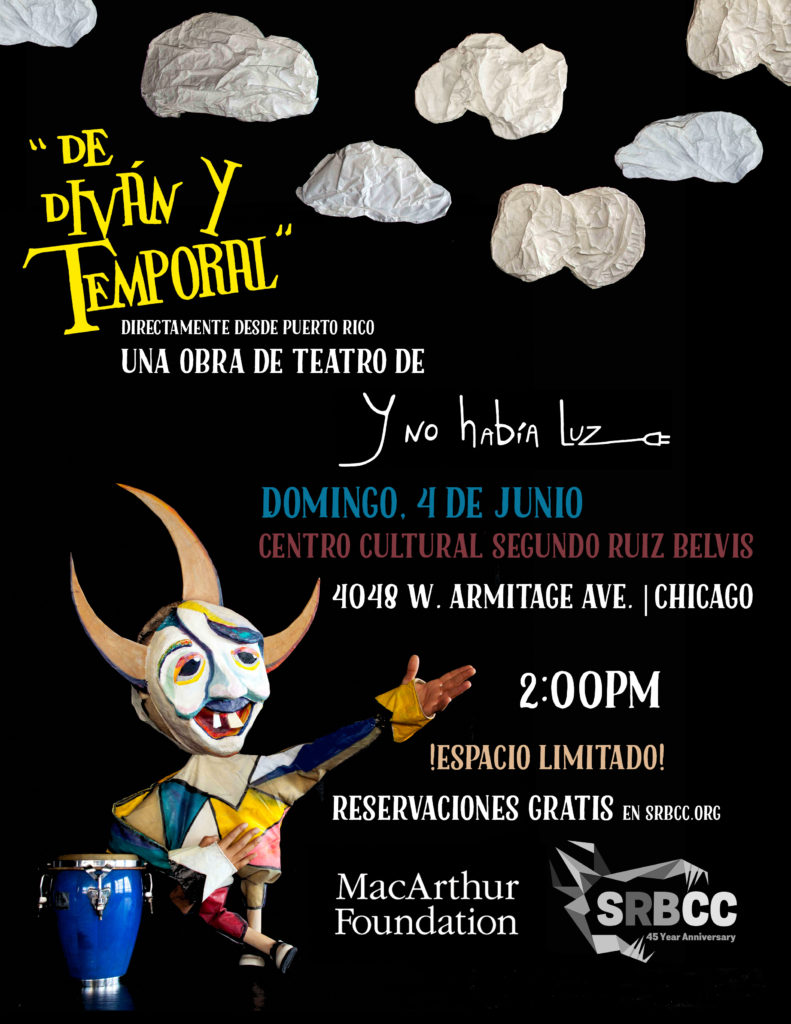 Segundo Ruiz Belvis Cultural Center presents…
Direct from Puerto Rico
De Diván y Temporal
06.04.17

2:00 pm |Free with RSVP
4048 W. Armitage Ave., Chicago, IL 60639
English
Inspired by the paintings "La Plena" and "Psychoanalysis of the Vejigante" by master painter Rafael Tufiño, Y No Había Luz develops metaphorical images of the themes presented in these works of art. The play presents important elements of the life and work of the painter intertwined with the experiences and transformations of Puerto Ricans. More
To learn more about Compañía de Teatro Y No Había Luz, visit ynohabialuz.com
Español
Y No Había Luz se inspira en "La Plena" y "Psicoanálisis del Vejigante" del maestro Rafael Tufiño para desarrollar metafóricamente escenas de los temas presentados en estos cuadros. Se abordan las problemáticas que plasma el artista para crear con ellas una pieza teatral que presente elementos importantes de la vida y obra del pintor entrelazados con las vivencias y transformaciones de los puertorriqueños. More
Visite ynohabialuz.com para conocer al colectivo de teatro a cargo de esta obra.
Segundo Ruiz Belvis Cultural Center presents…
Direct from Puerto Rico, Chalí Hernández with local musicians directed by Roy McGrath
Cumbanchero II: The Rafael Hernández Chicago Tribute Tour
Featuring the voice of the son of Rafael Hernández, Alejandro "Chalí" Hernández

06.04.17

6:30 pm | 4048 W. Armitage Ave | Free with RSVP
After the success of Cumbanchero! A Big Band Tribute to Rafael Hernández, SRBCC brings again Alejandro "Chalí" Hernández, the son of the legendary composer of "Preciosa", for a 3-day Chicago Tour with performances at SRBCC, The 606 Block Party and Night Out in the Parks.
The show will be preceded by a meet, greet and conversation with Alejandro "Chalí" Hernández who will engage the audience in a series of anecdotes and stories of the musical trajectory of "El Jibarito".
Visit SRBCC's Facebook page to see all upcoming 2017 spring and summer events. Night Out In the Parks will also host Las Caras Lindas in the summer. More dates to be released soon.
6.22.17 | Paito y los Gaiteros de Punta Brava | Free with RSVP
7.06.17 | Orquesta el Macabeo| Free with RSVP
8.05.17 | 50 Years of Verde Luz: Chicago Tribute to El Topo | Free with RSVP