Segundo Ruiz Belvis Cultural Center presents…
MIRAMAR: Dedication to Sylvia Rexach
Saturday, June 25, 2016 | 4048 W. Armitage  | 7:00 pm | $20 suggested donation

About Miramar
Miramar ("look to the sea") brings nostalgic love songs to a new audience and generation. They revive the bolero, a Latin A
merican song form that can be compared to the classic American songbook, by following in the footsteps of the great troubadours of the 1950's and 60's. Their repertoire includes a mix of original and traditional classic songs from all the Americas, and are especially influenced by the two-singer "duo" tradition of Puerto Rico. They also include a selection of Greek songs that came out of a similar international song movement that paralleled the Latin American bolero revolution.
Miramar is lead by the powerful singing "duo" of Rei Alvarez (Bio Ritmo) and Laura Ann Singh (Quatro Na Bossa). "It is undeniably some of the most beautiful singing of two people in harmony that you'll ever hear" says band leader/pianist Marlysse Simmons. Alvarez a native of Ponce, Puerto Rico grew up listening to the traditional bolero music and always dreamed of having his own group. "Marlysse and I worked together for many years in Bio Ritmo and always talked about forming a bolero group but it wasn't until we meet Laura Ann, that it finally came together".
About Sylvia Rexach
In Puerto Rico, Rexach has attained cult status. Born in 1922 into a well-off family, Rexach was a self taught pianist and guitarist. A fiercely independent woman, Rexach eschewed the traditional path then available to women, and embraced the lifestyle of San Juan's bohemia of which she became a central character. She began to compose and write poetry in her teenage years and went on to form the first Puerto Rican all female band, Las Damiselas. She contributed a regular column to El Diario de Puerto Rico, wrote radio skits in which she also acted and was one of the founders of SPACEM, the Puerto Rican Society of Authors and Composers.
Rexach sometimes performed her own songs accompanied by guitarist Tuti Umpierre but she never really considered herself a singer. Still, the one record we have of her singing her own songs is a masterpiece of raw emotion and intimacy, comparable in intensity to some of the work or Chavela Vargas or Violeta Parra .
Sylvia Rexach died in 1961, at the age of 39, from stomach cancer. Her songs have since become part or the Puerto Rican canon, but she remains mostly unknown outside of her native island.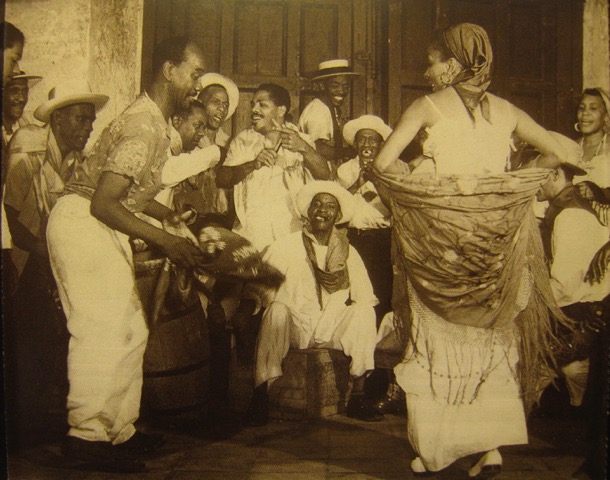 The Chicago Latin Jazz Festival and SRBCC partner to present…
My Music is Who I Am
Thursday, July 14th, 2016 | 4048 W. Armitage  | 7:00 pm | FREE

In working-class Afro-Latin communities, nothing surpasses music in terms of cultural expression and documentation. Self-identity, education, resistance, escapism, and the concept of 
our history in our own voices
 are all imbedded in the text and sub-text of the traditional and popular music of Afro-Latin America. In this lecture/demonstration, multi-Grammy nominated bandleader, percussionist, composer and SFJAZZ Trustee, John Santos, will focus on how a wide range of Cuban and Puerto Rican music addresses these issues. Recorded music from the instructor's legendary collection will form the foundation for this lecture with ample Q&A.