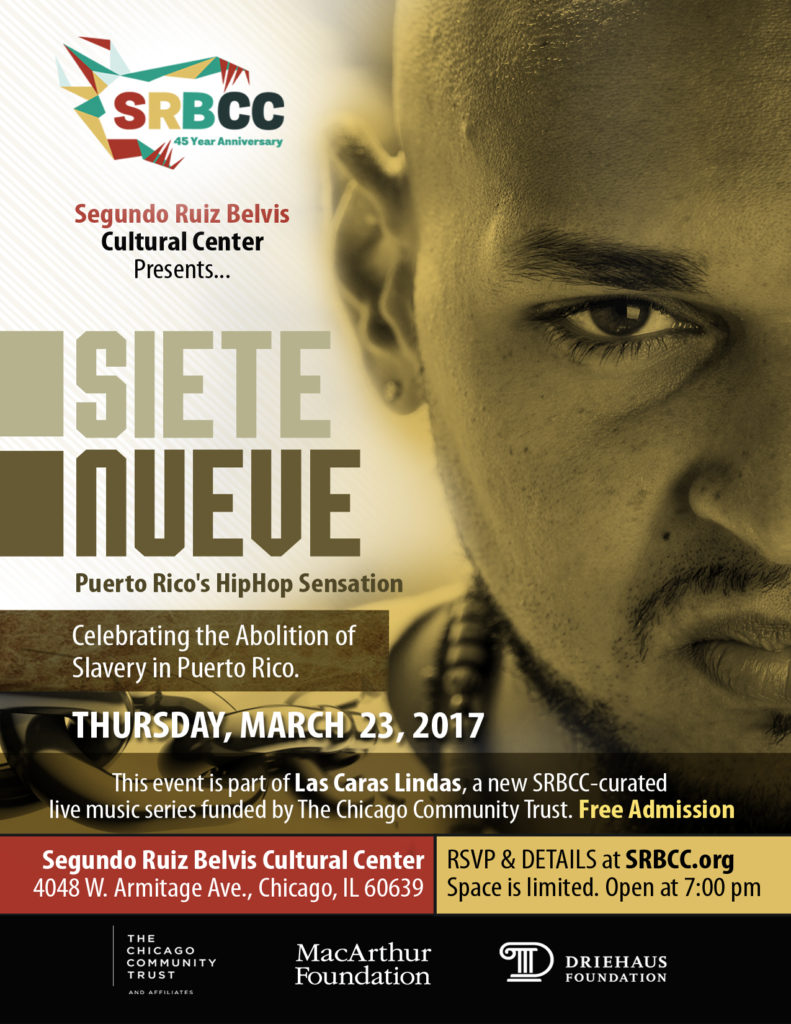 Segundo Ruiz Belvis Cultural Center presents
Puerto Rico's hip-hop sensation
03.23.17
Celebrating 144 Years of the Abolition of Slavery in Puerto Rico
Doors open at 7:00 pm
Free and open to the public
Donations support SRBCC's youth music programs
4048 W. Armitage Ave., Chicago, IL 60639
SieteNueve is part of the first generation of underground, independent rappers in Puerto Rico. Many of his influences came straight from the birthplace of hip-hop, as a result of his cousins living in NYC. Between Santurce and Carolina, he began rapping as a pre-teen after listening to Vico C. He first recorded in 1997 with the group Conciencia Poética and started his solo career two years later. His first solo album came out in 2003 and was titled El Pro-Greso. He later came out with Trabuco (2003), and his latest project is Antología (2012). In this last album, SieteNueve switched the hip-hop track for a live band format that will perform in Chicago with a mix of touring and local musicians, including his regular drummer Efraín Martínez (Puerto Rico) and San Juan-born saxophonist Roy McGrath (Chicago).
SRBCC was awarded the 2016-17 Strengthening Artistic and Cultural Diversity Grant of the Chicago Community Trust for a music series titled "Las Caras Lindas". Named in honor of Ismael Rivera's 1978's classic, the series explores traditional and progressive takes on Afro-Caribbean Music seen through performances of local and touring groups.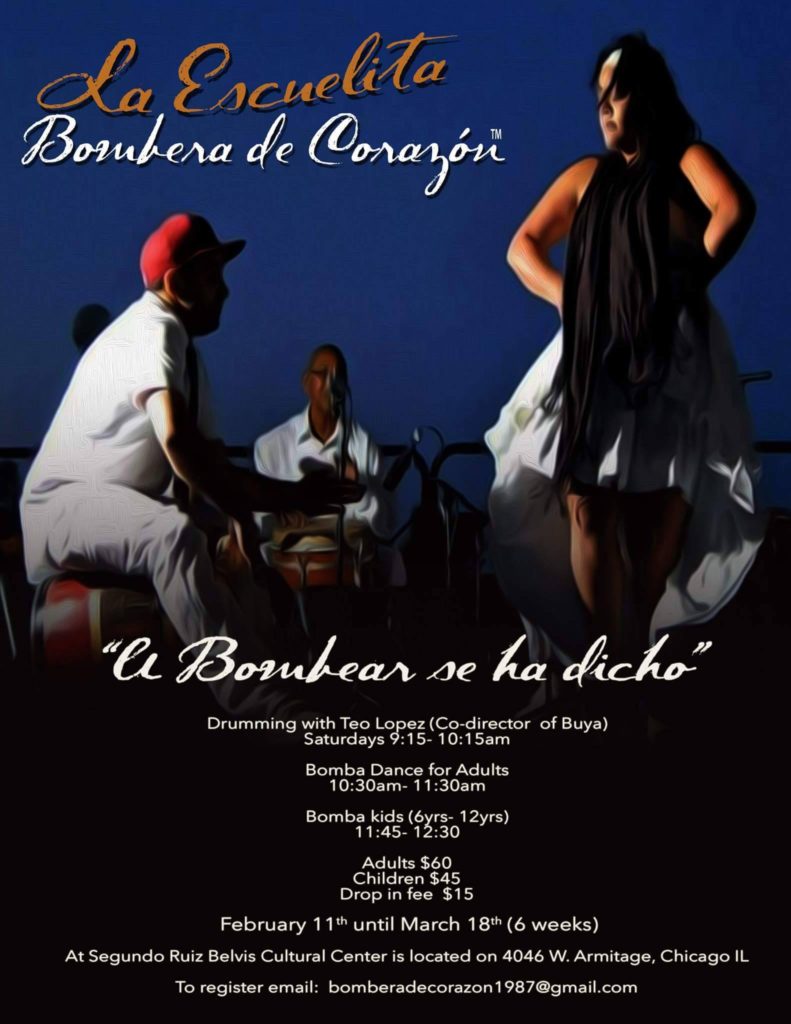 La Escuelita Bombera De Corazon has started a partnership with Segundo Ruiz Belvis to bring you an awesome Bomba experience through classes and workshops!!!
This 6 week semester will starts every SATURDAY February 11th until March 18th with :
Bomba Drumming with Teo Lopez- 9:15am-10:15am
Bomba Dance for Adults – 10:30am- 11:30am
Bomba Dance Kids 11:45m-12:30pm
Classes are open to both men and women!!!!!
Price: Adults: $60
Children: $45
Drop in Fee: $15
Your payment covers you for 6 weeks for 1 course.